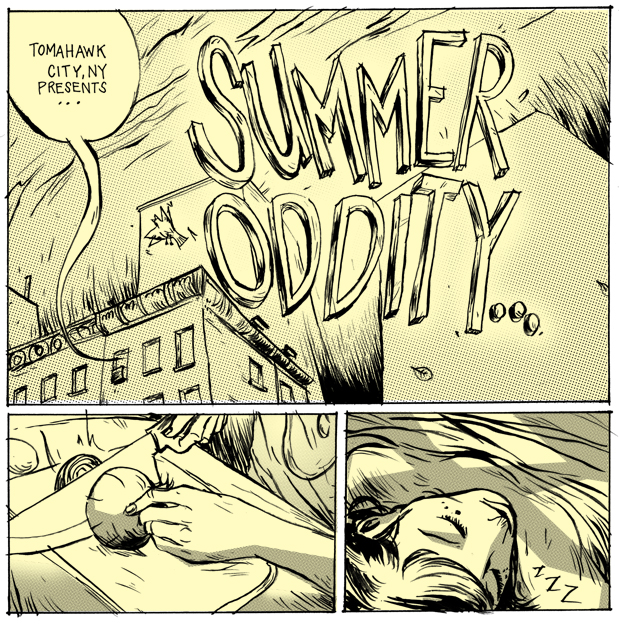 Summer Oddity, a new comic for the baby grand art show, and summer in general.
It's presented in its complete horizontal format, as it's presented in the show.
CLICK TO ENLARGE:


This was a fun one, fun once I started going, as usual life put a strain on getting this done when I wanted to, that and I'm an expert procrastinator. At least I'm productive when I can focus. It's the cooking comic/sing-a-long comic that I've been meaning to do for a couple months now, the format is a little different as the pages are formatted as squares, but otherwise I'm quite pleased with it. Probably the most nipples I've drawn in a single comic. Formally it's reminiscent of an awesome issue of Scud the Disposable Assassin where Scud fights Voo-Doo Ben and Sol on the even pages, while Jeff escapes from the hospital in the evens, one of my all time faves. Adding the colors afterward helped a lot, to keep the story lines clear.
This is the first time I've inked a comic using brushes, and as you can see by the results, I'm definitely not all that comfortable with it, but I'm going to try and stick with it. Around page 8 or so I started to feel a bit more comfortable with using the brush. And near the end I was many times faster than the beginning. As usual I looked at a lot of Paul Pope and Farel Dalrymple comics, a lot less Taiyo Matsumoto, I think I appreciated these guys even more after looking at what they do with their brushwork and what I'm feebly attempt to do with mine.
Whatever, I hope you enjoy, and check it out at baby grand if you're in the area until the 12th of Sept.